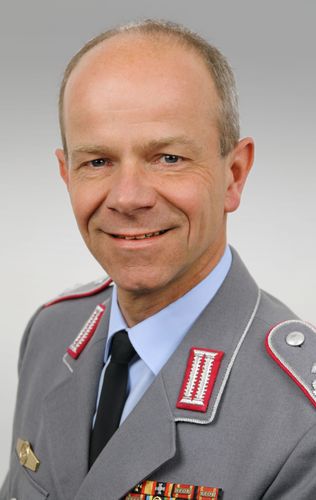 Colonel Torsten Wiegel
Head of Department - Eng/C-IED Division (Concepts and Capabilities Development Centre)
,
German Army
Colonel (GS) Dipl.-Ing. (M.Sc.) Torsten Wiegel was born on July 21st, 1967 in Siegen (North Rhine-Westphalia). He is married and the father of two children.

He started his service in the German Armed Forces (Bundeswehr) in 1987 as an officer candidate in the Engineer Battalion 140 (3rd coy) in Emmerich. After training as an officer at the Army Engineer School (Munich), the Army Officer School in Hanover and several army internships he became a platoon leader for one year in the Engineer Battalion 210 (4th coy) in Munich. In 1990 he was promoted to 2nd Lieutenant.

From 1990 to 1993 he studied aerospace science/engineering at the University of the Federal Armed Forces in Munich and graduated with a diploma (M.Sc.).
From 1994 to 1998 he was employed in two different assignments as platoon leader and company commander of a heavy/technical engineer company in the Engineer Battalion 12 in Volkach. He was promoted to Captain there and deployed from May to November 1998 as Engineer Staff Officer (SO2 Mines/EOD) to HQ SFOR, Engineer Branch in Sarajevo/Bosnia-Herzegovina.
This was followed by a two-year assignment as S4/logistics (staff) officer and department head logistics in the
Engineer Brigade 50 in Bogen.

From 2000 to 2002 he completed the 43rd General Staff Course (Army) at the German Armed Forces Command and Staff College in Hamburg. During this time, he was promoted to Major. From 2002 to 2004 Wiegel was the G2 Staff Officer/G2 Plans at the HQ ARRC in Mönchengladbach; since 2003 in the rank of a Lieutenant Colonel.

This was followed by a position as department head G3 and Chief of Staff at Tank Brigade 14 "Hessischer Löwe" in Neustadt/Hessen until 2006. During this time, from November 2005 to March 2006, he deployed to Kabul/Afghanistan as department head G3 of the 9th DEU contingent ISAF.

From May 2006 to September 2007 he was employed as a consultant for international cooperation and strategic transport in the Armed Forces Command Staff (FüS IV 4) in the Federal Ministry of Defense in Bonn.

From October 2007 to January 2010, Wiegel took command of the Armoured Engineer Battalion 803 in Havelberg. During this time, from May to November 2009, he deployed to Prizren/Kosovo as the department head G3/5 (operations/planning) at HQ Multinational Task Force South, concurrently being the department head G3 in the national staff 23rd/24th DEU contingent KFOR.

This was followed by an almost four-year assignment at the HQ German/Netherlands Corps in Münster, initially as Section Chief G2/G3 in the Rear Support Command and then as a staff and project officer to the Deputy Chief of Staff Knowledge Development, Plans & Policy. During this time he deployed to HQ KFOR in Pristina/Kosovo and became the Military Assistant (MA 1/XO) to COM KFOR for six months and the DACOS J5/Chief Plans & Policy for another month from April to October 2013.

From November 2013 followed a three-year assignment as head of the deployment policy department at the Joint Support and Enabling Service Headquarters in Bonn.
From November 2016 to March 2019, Wiegel was again assigned to the Federal Ministry of Defense in Bonn as policy/desk officer (principles of the logistics system of the Bundeswehr) in the forces policy directorate logistics (FüSK II 4).
In April 2019 he became the head of the deployment like commitments and exercise branch in the Joint Support and Enabling Service Headquarters in Bonn where he was promoted to Colonel.
Since August 1st , 2022 he is assigned to the Army Concepts and Capabilities Centre as the Division Head Military Engineering and C-IED/Technical Exploitation in Cologne.