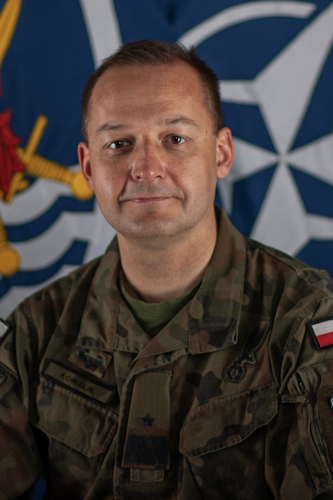 Brigadier General Tomasz Kowalik
Deputy Chief of Staff Support
,
NATO Multinational Corps Northeast
Brigadier General Tomasz Kowalik is a graduate of the Józef Bem Military Academy in Toruń, the US Army Academy at West Point , the Maria Curie-Skłodowska University in Lublin (UMCS), the University of Warsaw (postgraduate studies) and the International Faculty Development Program (IFDP) at IESE Business School. He obtained a doctorate in pedagogy (history of education and upbringing) at UMCS in.
He started his professional service in the 25th Air Cavalry Brigade in Tomaszów Mazowiecki (1999-2000) as an assault platoon commander, then in the years 2000-2008 he served as a specialist in the Ministry of Science and Higher Education and in the Armament Division of the Ministry of National Defense and a senior specialist in the General Staff of the P5. In the years 2008–2012 he was the chief specialist in the Secretariat of the Chief of General Staff of the Polish Armed Forces, and in the years 2012–2015 he was a special assistant to the chairman of the NATO Military Committee. He was the director of the Department of Military Foreign Affairs at the Ministry of National Defense (2016–2019). In 2020-2021, he served in the Operational Command of the RSZ as the head of the division - deputy chief of staff for support. Since 2021, he has been Deputy Chief of Staff-Support in the Multinational Corps North-East in Szczecin. He was promoted to the rank of Brigadier General by the President of the Republic of Poland in 2021.