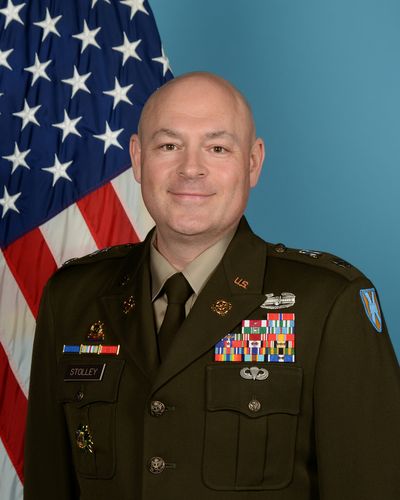 Lieutenant Colonel Oliver Stolley
Distribution Integration Branch Chief 21st TSC
,
US Army
LTC Oliver Stolley serves as the Distribution Integration Branch (DIB) Chief, 21st Theater Sustainment Command, part of U.S. Army Europe and Africa. The DIB is responsible for the coordination of life support and commodity integration for U.S. Army operations in Europe and Africa. LTC Stolley brings a unique perspective to sustainment planning stemming from his 26 years of military experience, multiple combat deployments to the Middle East, and eight years in Europe.
In his current position, LTC Stolley leads the sustainment planning and resourcing for U.S. Army forces operating in Europe and Africa focused on contingency, deliberate, exercise, and rotational plans. He is responsible for creating solutions to complex and varied sustainment challenges and aligning pertinent acquisition strategies ranging from Host Nation support, the U.S. Army's Logistics Augmentation Program, NATO Support and Procurement Agency and traditional contracting services.
Recognized for innovation across the European Theater, LTC Stolley's detail-oriented approach to logistics operations continues to influence new achievements. He played a pivotal role in numerous unprecedented operations including delivering 20K gallons of JP-8 from sea to shore as a part of DEFENDER 21 Joint Logistics over the Shore (JLOTS) operations. He and the DIB team have, most recently, spearheaded the creation of a collaborative digital resource and workspace to facilitate deployment to Europe called the Reception, Staging, Onward Movement, and Integration Suite of Tools (RSOI SoT), which is rapidly taking hold not only in Europe, but also across the Army. LTC Stolley consistently seeks the next evolution in the logistics enterprise and is at the forefront of capability development.