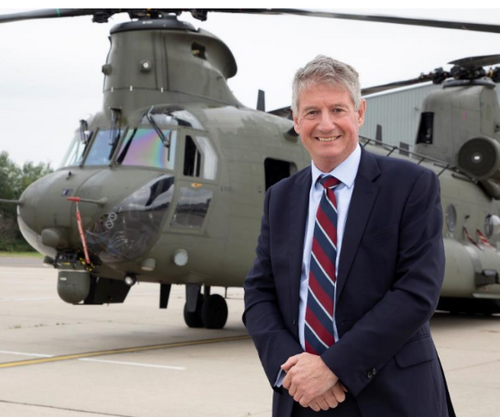 Keith Bethell
Director Helicopters
,
UK MoD DE&S
Mr (SCS 2*) K H R BETHELL CBE BSc(Hons) MA MSc CEng ChPP FRAeS Keith Bethell joined the RAF as an Apprentice Engineering Technician at RAF Halton in 1983 and was commissioned into the engineer branch in 1988, serving for 38 years and being promoted to the rank of Air Vice-Marshal.
During his time in the Service he undertook a variety of roles across fast jet operations in command and staff positions, and in equipment procurement and support. Command positions included station tours as the first Typhoon Depth Support Manager and Officer Commanding Depth Support Wing at RAF Coningsby, and on the staff in Headquarters No 1 Group as Group Captain Support and Chief Air Engineer, spanning an eventful 18 months which included Operation ELLAMY over Libya, continued support to Operation HERRICK in Afghanistan and leading the transformation of the Group's Air Safety Management Systems. His procurement and support roles included tours in the Nimrod MRA4 Project Team at DPA Abbey Wood and as Group Captain Typhoon Systems Manager and Project Engineer (Type Airworthiness Authority) in the Typhoon Team at DE&S Abbey Wood, where he was responsible for development, modification, safety and airworthiness of the Typhoon weapon system and development and delivery of Typhoon support solutions.
As an Air Commodore he was Head Fast Air Support Team in DE&S with responsibility for the Tornado, Typhoon, Battle of Britain Memorial Flight and Defence Crew Escape Systems projects. This role spanned a period of intense operational deployment of the Tornado and Typhoon forces and the introduction of significant new operational and air safety capabilities onto both platforms, as well as transformation of their support solutions.

In 2016, he was selected for the role of Director Combat Air in DE&S on promotion to Air ViceMarshal. He oversaw delivery of many DE&S successes including the arrival of F-35 Lightning II in the UK and its first landing on HMS Queen Elizabeth, major upgrades to Typhoon's radar, and delivery of the Combat Air Strategy, setting out the national vision including the next-generation Tempest jet.

In 2021, on retirement from the RAF he was selected for the position of Director Helicopters in DE&S, and also took up a position as a Non-Executive Director and Chairman on the Board of Sealand Support Services Limited.

Mr Bethell is married with two sons. He keeps active by following Bath Rugby, training to run halfmarathons and travelling to support his younger son on the world Para-badminton tournament circuitin his bid to go to Paris 2024 with the Paralympics GB Team.