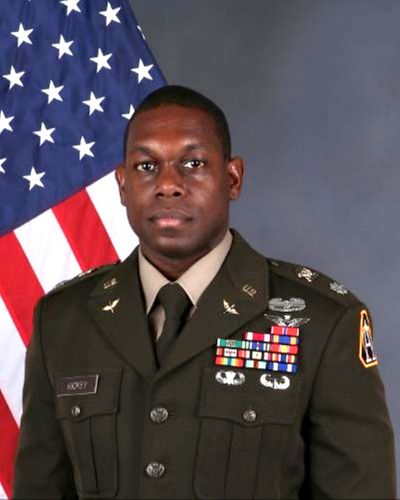 Lieutenant Colonel James Hickey
Deputy Programme Manager CH-47F Modernization
,
US PEO Avaition
Lieutenant Colonel James Hickey is a native of Melbourne, Florida and a graduate of Marshall University, Huntington, West Virginia. Upon graduation, he commissioned as an Aviation Officer July 2005 and attended Initial Entry Rotary Wing Training and Aviation Officer Basic Course at Fort Rucker, Alabama.

LTC Hickey's previous operational assignments include positions as a Platoon Leader and Executive Officer of Bravo Company 5-101 Aviation Regiment, 101st Airborne Division (Air Assault), Fort Campbell, Kentucky; Company Commander B/3-227th Assault Helicopter Battalion, 1st Air Cavalry Brigade, Fort Hood, Texas; Company Commander HHC 1-227th Attack Reconnaissance Battalion, 1st Air Cavalry Brigade Fort Hood, Texas; and Operations Officer 1-291st Aviation Regiment, Division West, Fort Hood Texas.
After assessing into the Army Acquisition Corps in 2014, LTC Hickey held positions as a Test Officer at the Operational Test Command, Fort Hood, Texas; MD 530 Assistant Product Manager, Non-Standard Rotary Wing, Redstone Arsenal, Alabama; UH-60V Assistant Product Manager, Utility Helicopter Program Office, Redstone Arsenal, Alabama; Acquisition Career Manager, Acquisitions Management Branch, Fort Knox, Kentucky, and Assistant Executive Officer to DCG, Acquisition and Systems, Army Futures Command, Austin Texas.
LTC Hickey's civilian education includes a Bachelor of Business Administration from Marshall University, Huntington West Virginia and a Master of Business Administration from Washington State University, Pullman, Washington. LTC Hickey's military education includes the Aviation Officer Basic Course, Aviation Captain's Career Course, Army Acquisition Basic Course, Army Intermediate Program Management and Command and General Staff College. LTC Hickey is also an Army Acquisition Corp Member and DAWIA Level III certified in Program Management.
LTC Hickey's awards include the Bronze Star Medal, Meritorious Service Medal (4OLC), Air Medal, the Army Commendation Medal (3OLC), the Army Achievement Medal (2OLC), and the National Defense Service Medal. LTC Hickey wears the Combat Action Badge, Senior Army Aviator Badge, Parachutist Badge, and Air Assault Badge.