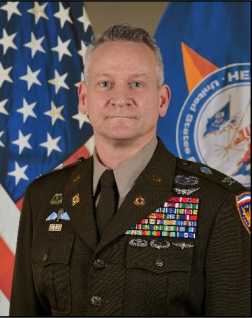 Colonel Grant Morris
Deputy Director of Logistics
,
US European Command
Colonel Grant L. Morris assumed responsibilities as the Deputy Director of Logistics (ECJ4), United States European Command on 10 July 2020.
A native of Plano, Texas he entered the Army Reserve as an enlisted Soldier in 1988. While serving in the simultaneous membership program, Army National Guard, he attended Texas Tech University where he was commissioned in the
Quartermaster Corps through ROTC in 1994.
COL Morris' previous assignments include Commander, 405th Army Field Support Brigade, Daenner Kaserne, Germany; Director of Operations, G3/5/7, Army Sustainment Command, Rock Island Arsenal, Illinois; Study Manager, Army Science Board, Washington D.C.; Commander, Army Field Support Battalion-Bagram, Afghanistan; Chief, Current Operations and Commander's Initiatives Group, Army Sustainment Command, Rock Island Arsenal, Illinois; Plans Officer, Executive Officer to the Commanding General, and Chief of Plans, 21st Theater Sustainment Command, Panzer Kaserne, Germany; and Director, Automated Logistics Assistance Team, Balad, Iraq.
COL Morris is a graduate of the Quartermaster Officer Basic Course and the Logistics Executive Development Course Fort Lee, Virginia where he earned a Master's degree in Logistics Management from the Florida Institute of Technology. He also attended the Command and General Staff College, School of Advanced Military Studies, and the Advanced Strategic Leadership Studies Program at Fort Leavenworth,
Kansas where he earned two additional Master's degrees in Operational Art and Strategic Studies.
COL Morris' awards and decorations include the Legion of Merit (second award), Bronze Star Medal (second award), Meritorious Service Medal (seventh award), Army Commendation Medal (sixth award), Joint Service Achievement Medal, Army Achievement Medal (second award), National Defense Service Medal (campaign star), Armed Forces Expeditionary Medal, Kosovo Campaign Medal, Afghanistan Campaign Medal (two campaign stars), Iraqi Campaign Medal (three campaign stars), Inherent Resolve Campaign Medal, Armed
Forces Service Medal, Humanitarian Service Medal, Military Outstanding Volunteer Service Medal, the NATO Medal, the Aircraft Crewman's Badge, Parachutist Badge, Air Assault Badge, and the Parachute Rigger Badge. Grant was also awarded the Combat Action Badge and is a recipient of the Honorable Order of Saint Martin Medal.
COL Morris and his wife Tina have one daughter Molly who lives with her husband Robert and daughter Ava in Texas.