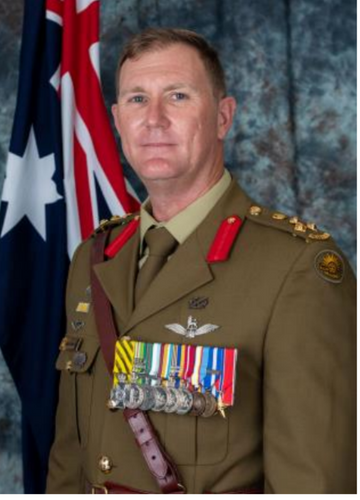 Brigadier Dean Thompson CSC
Commander 16th Aviation Brigade
,
Australian Army
Brigadier Thompson joined the Army in 1987, initially as an Army Apprentice, then entered the Royal Military College Duntroon in 1993.
On graduation, he was appointed as an Aviation Officer and posted to the 5th Aviation Regiment. Following his formative years as young officer, he was posted to the School of Army Aviation as the Senior Instructor of the Aviation Regimental Officers Intermediate Course.

In 2005, Brigadier Thompson completed his Qualified Flying Instructors course and was shortly after appointed as the Second in Command/Senior Instructor for the Army Helicopter School.
In 2008, Brigadier Thompson was selected as the Officer Commanding 162 Reconnaissance Squadron where he was responsible for transitioning the last Kiowa reconnaissance
capability to the Tiger weapon system.
Complementing Brigadier Thompson's regimental service, he has served as a staff officer with the Directorate of Army Research and Development (DARA) and within Modernisation and Planning (MSP) Division - Army Headquarters.
Brigadier Thompson commanded the 1st Aviation Regiment in 2014/15.
Following command, Brigadier Thompson's was posted as Career Advisor for Lieutenant Colonel Generalist officers, within the Directorate of Officer Career Management – Army.
In 2018, Brigadier Thompson promoted to colonel into the Director of the Joint Inter-agency Liaison Office position, managing a Special Operations Command capability. In 2021 Brigadier Thompson served as the Defence Attaché in Baghdad, Iraq.
Operationally Brigadier Thompson served on multiple tours in Papua New Guinea, Timor Leste and in Afghanistan. On OP SLIPPER he served as the Chief of Operations and Plans for the US 159th Combat Aviation Brigade.
Brigadier Thompson has been awarded Silver Commendation, A Bronze Star Medal (US) and a Conspicuous Service Cross.
In 2010 Brigadier Thompson graduated from the Australian Command and Staff College and in 2020, Brigadier Thompson graduated for the Defence Strategic Studies Course at the Australian War College.
Brigadier Thompson holds Masters Degrees in Strategic Studies (University of New South Wales) and in International Relations (Deakin University).
Brigadier Thompson and his wife, Colonel Fern Thompson, have two children; Sterling, seventeen and Jemma, sixteen. His interests include; any sport his children are playing, rugby union, adventure motorcycling and surfing.