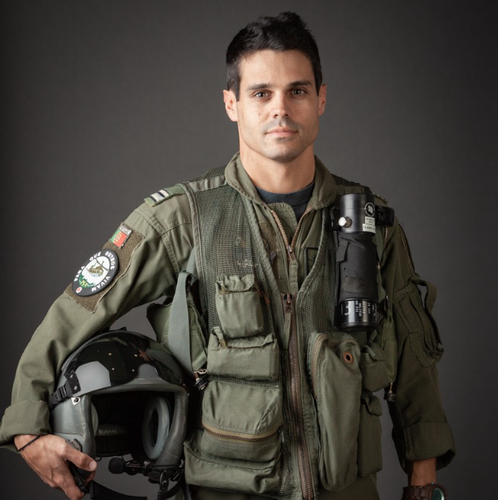 Major Daneil Filipe Ferreira da Silva
Director of Operations
,
Portuguese Air Force
Major Pilot Aviator Daniel Filipe Ferreira da Silva joined the Air Force Academy in 2003 to the Military and Aeronautical Sciences course as Pilot Aviator, having obtained is brevet in June 2009, after completing the training on the T6 Texan II and T38 Talon aircraft in the United States Air Force.

He was placed at Air Base No. 11 (BA11) in Beja, where he attended the Basic Helicopter Course on the Sud Aviation Alouette III aircraft.

In November 2010, he was assigned to Air Base No. 6 (BA6), where he began his qualification as Co-pilot on the EH-101 Merlin, having flown around 560 hours. In October 2014, he qualified as Pilot in Command.

In the first quarter of 2012, he attended the Basic Command Course at the Center for Advanced Studies at the Air Force Academy (AFA).

From 2011 to 2019, he was assigned to the Operational Planning Section, where he developed operational execution plans in order to fulfill the missions assigned to the 751 Squadron, having assumed the leadership of the Operational Planning Section from 2017 to 2019.

He attended the Promotion Course to Senior Officer at the University Military Institute (IUM), in the academic year of 2019.

In the period from 2019 to 2021, already in the role of Instructor Pilot, he assumed the leadership of the Standardization and Evaluation Section, teaching operational skills and delivering courses and qualifications on the EH-101.

He attended the Helicopter Tactics Instructor Course, taught by the European Defense Agency, in 2021, having graduated as Helicopter Tactical Instructor belonging to the first crew of helicopter tactical instructors of the Portuguese Air Force.

From 2021 to 2022, he assumed the role of Director of Operations.

In October 2022, he took command of Squadron 751.

Currently accumulates more than 2500 flight hours.

Major Daniel Silva is the facto married and has a son.