30 Mar 2023
UK and Sweden strengthen defence relationship as ministers sign agreement on self-propelled guns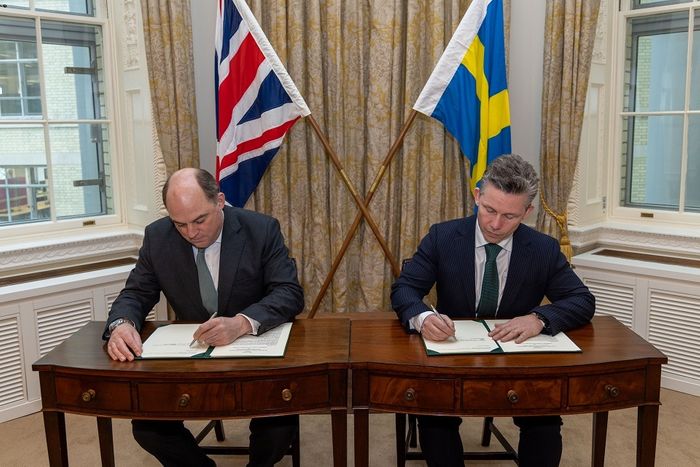 Ministry of Defence Press Release
The UK and Swedish defence ministers signed a letter of intent relating to a new contract to deliver 14 Archer self-propelled guns
The UK will continue to strongly support Sweden's swift accession to NATO and we will work together to ensure Ukraine receives the support it needs, following discussions during a meeting between defence ministers.
Defence Secretary Ben Wallace welcomed his counterpart Pål Jonson during a visit to the UK Ministry of Defence today, which included the signing of a letter of intent relating to a new contract to deliver 14 Swedish-built Archer self-propelled guns to the British Army, as well as highlighting potential future collaboration between the UK and Sweden.
During the meeting, the Defence Secretary further reaffirmed the UK's commitment to supporting Sweden throughout its NATO accession process.
UK Defence Secretary, Ben Wallace
, said:
"Sweden has provided vital military aid and integral support to Ukraine and our allies through the Joint Expeditionary Force.
"The UK will continue to give our full support to Sweden's accession to NATO, fortifying Northern Europe and the Baltics against Russian aggression and expanding security challenges in the region."
Swedish Defence Minister Pål Jonson
said:
"Swedish relations with the UK will be strengthened with the agreement about cooperation on artillery signed today. The British leadership when it comes to supporting Ukraine is an inspiration for all of us and both Sweden and the UK will continue to support Ukraine until victory is achieved."
I thank the UK for the quick ratification and the support of our NATO membership application. The UK has shown continued political support but also military presence in our neighbourhood - both bilaterally and through the JEF - pivotal to our security during the accession period."
The UK and Sweden's defence relationship is driven by membership of the JEF and Northern Group, as well as by the May 2022 UK-Sweden Mutual Solidarity Agreement, relating to intelligence sharing and joint training and operations.
This has been supported by joint exercising of Royal Air Force Typhoon aircraft and the Swedish Air Force, as well as by visits from Royal Navy vessels, with HMS Defender and HMS Portland visiting Swedish ports last summer, and a visit by HMS Mersey earlier this month. A further port visit will be carried out by HMS Albion this year.
This spring will also see the Army join forces with the Royal Navy and RAF for Exercise Aurora. Alongside naval vessels, commandos, and RAF Typhoons, soldiers from the 1st Battalion the Mercian Regiment will train with both Swedish and Finnish troops, operating as part of a Finnish Battlegroup in Sweden.
Swedish industry has also provided important support amid the UK's programme of providing military aid to Ukraine, with hundreds of NLAW anti-tank weapons – designed by Swedish company Saab – donated by the UK to bolster Ukraine's capability. The UK today also announced a contract of nearly £5 million to replenish munitions granted to Ukraine with Saab-produced Carl-Gustaf M4 recoilless rifles.
The purchase of Archer also enables the UK to support Ukraine through the donation of AS90 self-propelled guns, replacing them until the long-term Mobile Fires Platform delivers later this decade as part of the Future Soldier modernisation programme.
The UK is committed to provide the capabilities Ukraine requires, including artillery, air defence and armoured vehicles, and to drive further international donations and secure lasting peace. The UK provided £2.3 billion in military support to Ukraine in 2022 and has already committed to sustain that level of military support into 2023.