12 Oct 2023
UK and Estonia Sign Defence Cooperation Agreement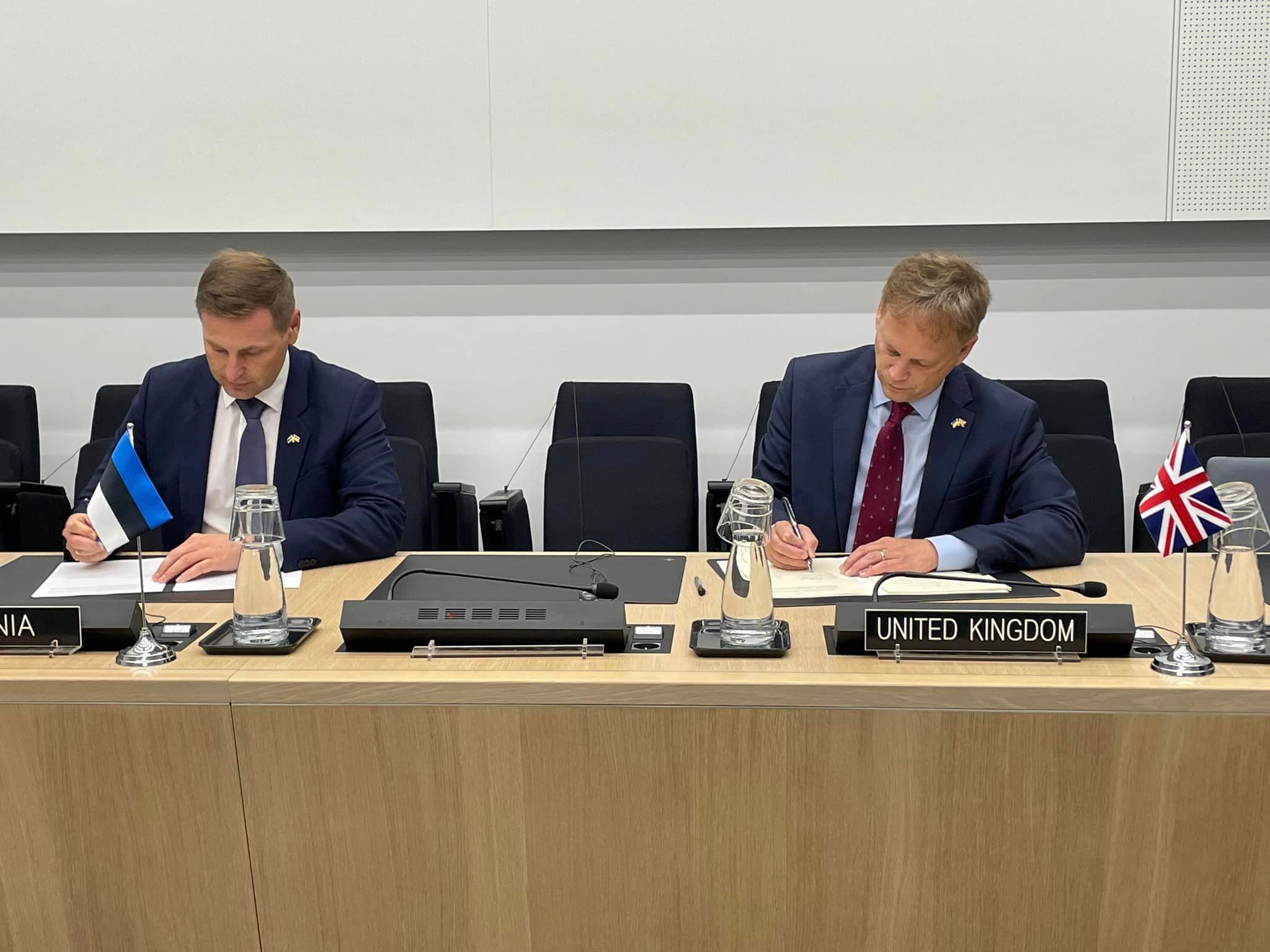 Republic of Estonia Ministry of Defence
At the sidelines of the NATO defence ministers' meeting, Estonian Minister of Defence Hanno Pevkur and the new British Secretary of State for Defence Grant Shapps signed a long-term defence cooperation agreement, in which the two states outline their common ambition for meeting the conditions required to implement NATO's defence plans in the following decade.
"Defence cooperation between Estonia and the United Kingdom has been excellent and we have been moving toward a longer term defence cooperation agreement, which would set out practical steps for the coming years. The agreement we signed confirms the bilateral defence cooperation actions and its scope allows us to expand cooperation on land, at sea, in the air, as well as in cyber space. The objective is simple – to integrate the UK forces into Estonia's defence even better," said Minister of Defence Hanno Pevkur.
The main focus of the new agreement is creating the best possible conditions to support high readiness of forces. "In the agreement, we also confirmed our ambition to align our cooperation to the new NATO regional plans over the next decade. That means, for example, the allocation of a brigade to Estonia, the deployment exercise of that brigade in 2025, staff officers in the Estonian Division, as well as the support of the UK to the creation of the new division," explained Minister of Defence Pevkur.
Today, the UK leads the NATO battlegroup in Estonia. At the meeting, the Estonian Minister of Defence also emphasised that although we are not proposing the permanent presence of the allocated brigade in Estonia, it does highlight the importance of joint planning and integration of the British forces into Estonian defence. Regular exercises and the deployment plan for the British allocated brigade support that objective.
In addition, the ministers discussed the need to continue aid to Ukraine, in which the UK has had a significant role thus far. The ministers also discussed the need to urgently implement the defence plans agreed at the NATO Vilnius Summit, as well as increasing allied investments into defence capabilities.
Secretary of State for Defence Grant Shapps was appointed to office in September and this was the first official meeting of the two ministers. Before taking office, Grant Shapps was the Secretary of State for Energy Security and Net Zero, focused on securing the British long-term energy supply.
🇬🇧🤝🇪🇪 - Defence Ministers @grantshapps & @HPevkur have signed an agreement to take defence cooperation to the next level.

The agreement allows us to expand cooperation on land, at sea, in the air, as well as in cyber space. #WeAreNATO pic.twitter.com/ouwAyrS6x9

— Ministry of Defence 🇬🇧 (@DefenceHQ) October 12, 2023