19 Jan 2023
Spanish Armed Forces Orders Third NH90 Helicopter Simulator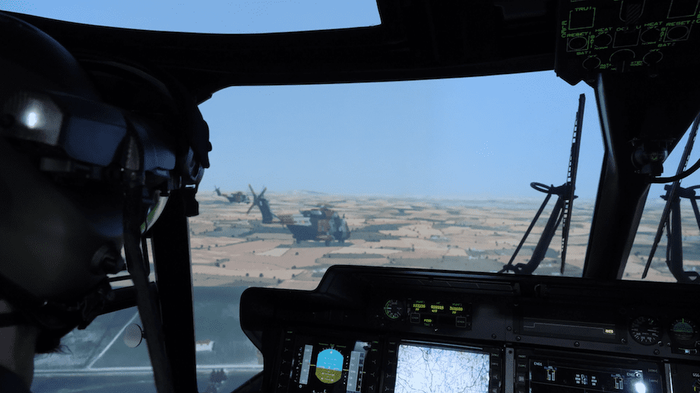 Originally posted on DefenseAdvancement
Indra has been awarded a contract valued at €19.2 million for the development and delivery of a new NH90 helicopter Full Mission Simulator (FMS) for the Spanish Air and Space Force at the Cuatro Vientos Air Base in Madrid.
This will be the third mission simulator system developed by Indra for the Spanish Armed Forces, joining the two already in operation at CESIHEL helicopter simulation center, operated by Indra for the Air Force of the Army at the Agoncillo base (La Rioja).
Based on the use of real on-board avionics equipment, Indra believes its state-of-the-art NH90 simulator provides the greatest realism in training and ensures that future aircraft evolutions are easily replicable in the FMS.
Indra's simulator system has been designed to provide realistic training experiences to aircraft pilots, preparing them to safely and efficiently interoperate with various aircraft systems. This is made possible by the simulator's ability to recreate all-threat scenarios within any imaginable training condition, avoiding putting people and the aircraft at risk and allowing pilots and crew to practice complex maneuvers and manage stress in emergency situations.
The simulator also accurately reproduces all possible weather conditions, both day and night, and allows the use of the helicopter's actual Image Intensifier Tubes (IITs) for simulation in GVN flights.
Another functionality of the FMS system is a network simulation architecture, based on the High Level Architecture (HLA) standard, which allows joint tactical training of a mission from several simulators simultaneously, located in different bases and with different aircraft models and platforms. In this way, the pilots of the NH90 helicopter can train in the same mission from different bases.
"Beyond instructing in the proper handling of an aircraft, joint tactical training is increasingly important, which allows professionals to prepare for the fulfillment of the mission in an environment similar to the real one, interacting with other crews and becoming familiar with the increasingly numerous and complex systems that make up the combat cloud," said Rafael Junco, Simulation Director at Indra. "Thanks to the commitment of the Ministry of Defense to incorporate the latest technologies in terms of simulation of Armed Forces helicopters, the NH90 simulator has already demonstrated its effectiveness in this regard."
Due to the complexity of the NH90 and its advanced electronic defense systems, also developed by the company, Indra is one of the few companies in the world that offers training solutions for this aircraft.
In addition to reducing the risks of training, these solutions reduce overall flight hours by 40%, avoid huge operating costs, reduce maintenance work by more than 33%, and save the atmosphere from a significant volume of emissions. The use of all Indra simulators deployed around the world contributes to an environmental improvement of more than 500,000 tons of CO2 per year.