27 Mar 2023
RAF joins five other nations in UK's biggest aerial exercise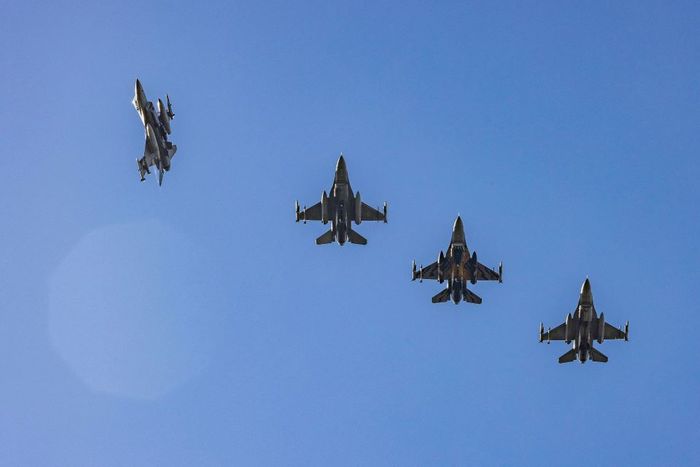 Originally Posted on Ministry of Defence
70 aircraft flown by six nations have taken part in the UK's biggest aerial training exercise lasting three weeks
Pilots from five nations have joined the Royal Air Force for the UK's biggest aerial training exercise this week, which boosts interoperability and helps to develop joint tactics in the air.
Exercise Cobra Warrior sees 70 aircraft training together in high intensity, large force, simulated complex tactical air warfighting operations for three weeks during March.
Pilots from the Finnish, Indian and Royal Saudi Air Forces are taking part this year for the first time. The Belgian and US Air Force are returning having joined previous Cobra Warrior exercises.
The Indian Air Force have deployed five Mirage 2000 aircraft to RAF Waddington. The Royal Saudi Air Force are operating six Typhoons from RAF Coningsby.
Minister for the Armed Forces, Rt Hon James Heappey MP
, said:
"Cobra Warrior is a fantastic opportunity for British pilots to exercise with our international partners, learning from each other and rehearsing operating together, as I'm sure our air forces will do many times over the coming decades."
Six F-16s of the Belgian Air Force and six F-18s from the Finnish Air Force are operating from RAF Waddington. Finland's participation is part of a wider training activity in support of Joint Expeditionary Force (JEF) exercises.
The three week exercise brings together the capabilities of all nations involved and delivers the full spectrum of air operations, including defensive and offensive counter-air and strike operations. This includes RAF Regiment Precision Strike Teams, Air Manoeuvre operations to support ground forces, and developing our Joint Personnel Recovery Capability.
Squadron Leader Mcfadden, Commanding Officer of 92 Squadron
, said:
"Exercise Cobra Warrior is a challenging Air-led multi-domain exercise, focused on pitting our NATO, Joint Expeditionary Force and International Partners against a capable peer adversary within a challenging and complex environment.
"It has been a pleasure to host pilots from so many different nations to fly alongside UK pilots and train together in joint-tactics and interoperability."
The fast jets taking part in the exercise are supported by RAF Voyager aircraft conducting air-to-air refuelling operations, flying from RAF Brize Norton. UK Joint Helicopter Command aircraft are also participating from RAF Leeming.
The RAF's Air Mobility Force are also taking part in the exercise, with sorties including deploying elements of 16 Air Assault Brigade during an associated ground mission, that forms part of the overall exercise scenario.