22 Feb 2023
Over £14 million available for Windfarm Mitigation for UK Air Defence: Phase 3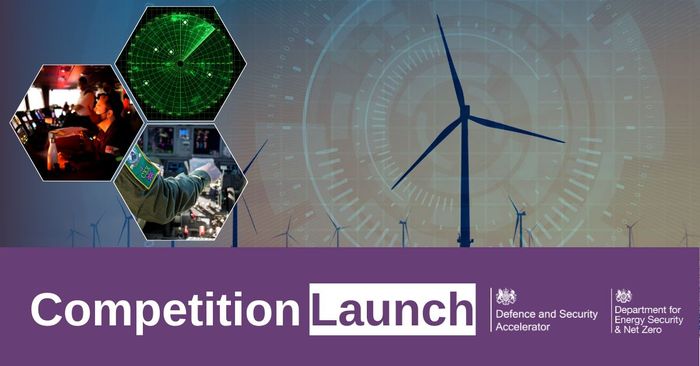 Ministry of Defence
The UK Ministry of Defence (MOD), through the Defence and Security Accelerator (DASA), in partnership with the Department for Energy Security and Net Zero (DESNZ) has launched Stream 1 of Windfarm Mitigation for UK Air Defence: Phase 3. This competition builds upon Phases 1 & 2 and seeks to advance innovative technologies to enable the long-term co-existence of offshore windfarms and Air Defence radar. Stream 2 is expected to launch at a later date – see Competition Document for more details.
The competition is funded by the DESNZ Net Zero Innovation Portfolio (NZIP) and is undertaken in partnership with the Royal Air Force (RAF), the Defence Science and Technology Laboratory (Dstl), and DASA.
Offshore wind will play an increasingly critical role as part of the UK's renewable energy supply to enable Net Zero ambitions. However, offshore windfarm installations may adversely impact the quality of data obtained from surveillance radars which are the backbone of the UK's Air Defence detection capability.
Stream 1 of Windfarm Mitigation for UK Air Defence: Phase 3 seeks innovative technologies that have the potential to mitigate the effect of windfarms on UK Air Defence to enable the long-term co-existence of offshore wind installations and Air Defence radar.
Secretary of State for the Department for Energy Security & Net Zero Grant Shapps said:
The UK is the Saudi Arabia of wind power in terms of energy. We have the greatest capacity in Europe and are home to the world's four largest offshore windfarms.
Working across government, including with the Defence industry, we are unlocking the capacity for the fifth largest windfarm and beyond to further accelerate our dominance of this vital renewable resource. This funding will ensure the UK leads that race all whilst without compromising the UK's defence and airspace.
Wing Commander Kevin Walton, Co-Chair of the Ministry of Defence/Offshore Wind Industry Council Air Defence Mitigation Task Force said:
The MOD is playing an active role in the UK's efforts to build a greener, net-zero future.
Offshore wind will play a central part in meeting our nation's renewable energy needs and ensuring energy security for the UK. Complementing existing RAF work to mitigate the impacts of large-scale offshore windfarms on our current radars, this exciting innovation competition is a significant step to help find the future solutions that will enable the long term co-existence of windfarms and the UK's airspace radars.
This Competition is funded via a DESNZ grant
This Phase 3 competition run by DASA on behalf of DESNZ, highlights a key DASA priority to support acceleration of funded proposals towards commercialisation. This competition moves away from the standard DASA process, instead, innovators will compete for a DESNZ grant which will seek match funding from the applicants. As a result, innovators will be asked to consider their business case and provide detailed business information, alongside the standard DASA submission.
Our team of Innovation Partners will be available to discuss this with Innovators, and events will be run to ensure innovators are in the best position to proceed. Other DASA competitions will continue to follow the regular DASA submission process.
Key dates and funding
Up to £14.15 million funding is available for this Themed Competition.
The deadline to submit a proposal is midday 20 April 2023 (BST ).
Do you have a disruptive idea or concept? Read the full competition document and submit a proposal
.The situation: Windfarms and their impact on air surveillance
The presence of windfarms has an impact on Air Defence radars. Windfarms have the potential to reduce the ability of a radar to track aircraft largely because of clutter and desensitisation.
Clutter: Wind turbines reflect radio waves, which is perceived by the radar as an increased level of clutter over the area of the windfarm. This clutter makes it harder for the radar to distinguish between targets of interest, such as an aircraft.
Desensitisation: Radars have a limited dynamic range to detect targets of interest. In instances where windfarms present a large radio wave, it can make it difficult for radars to detect smaller objects of interest.
What innovations are DASA looking for?
This is an open competition and participation in previous phases is not a requirement to submit into Phase 3.
The competition seeks to fund projects which will demonstrate innovative technologies across 4 challenge areas.
Challenge Area A: Radar approaches
In this challenge area, DASA seeks innovative radar signal processing and/or alternative radar techniques (such as multistatic systems) that can be used to maintain air surveillance over the area of interest.
Challenge Area B: Materials approaches
In this challenge area, DASA seeks innovations that incorporate smart materials or surface structures into windfarm turbines to reduce the impact of clutter on radar surveillance.
Challenge Area C: Alternative tracking approaches
In this challenge area, DASA seeks innovations to fill the capability gap in surveillance cover for conventional long range Air Defence radars caused by the radar returns from wind turbines
Challenge Area D: Integrated demonstration
In this challenge area, DASA seeks demonstrations which combine at least two of the challenges A, B or C.
Submit your proposal
Read the full competition document and submit a proposal.