12 Jul 2023
Historic security framework for Ukraine set to be agreed in major step toward ending the war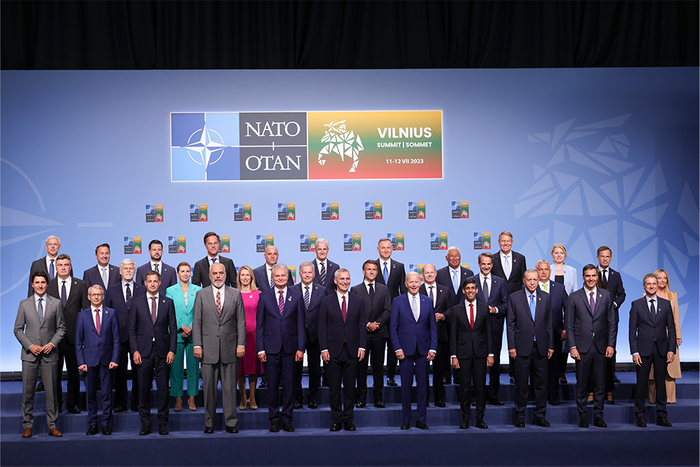 A significant international framework for Ukraine's long-term security arrangements is expected to be agreed by G7 partners in the margins of the NATO Summit today (Wednesday).
UK and G7 allies are expected to agree a new framework for guaranteeing Ukraine's long-term security today, delivering on an ambition the PM set out at the beginning of this year
At the first meeting of the NATO-Ukraine Council, the PM will strongly support simplifying the path to Ukraine's NATO membership
Comes as the Prime Minister announces a major new tranche of support for Ukraine, including thousands of additional rounds of Challenger 2 ammunition, more than 70 combat and logistics vehicles and a £50m support package for equipment repair, as well as establishing a new military rehabilitation centre
A significant international framework for Ukraine's long-term security arrangements is expected to be agreed by G7 partners in the margins of the NATO Summit today (Wednesday).
The joint declaration, expected to be signed by all members of the G7, will set out how allies will support Ukraine over the coming years to end the war and deter and respond to any future attack. It is the first time that this many countries have agreed a comprehensive long-term security arrangement of this kind with another country.
Joint Declaration signatories will provide long-term, bilateral security commitments for Ukraine, with the aim of building a Ukraine that can defend its territorial sovereignty both today and in the future.
At the Munich Security Conference in February, the Prime Minister set out the obligation the international community had to ensure Ukraine was never again left vulnerable to the kind of brutality inflicted on it by Russia, and in turn, put the country in the best possible position for any future negotiations.
Since that speech, the UK and allies have delivered on this obligation through the continued provision of security assistance and modern military equipment across land, sea and air - prioritising air defence, artillery, long-range capabilities, and armoured vehicles.
The UK was the first G7 country to provide Ukraine with main battle tanks and the first country to provide long-range missiles. We have also been instrumental in establishing the new international coalition to provide Ukraine with combat air capability.
In the past six months, the UK has also expanded its military training programme for Ukrainian recruits. This programme has trained more than 19,000 soldiers to date and training for Ukrainian pilots in the UK will begin this summer.
Following today's Joint Declaration, partners will provide more defence equipment, increase and accelerate intelligence sharing, bolster support for cyber and hybrid threat defences, expand training programmes and military exercises, and develop Ukraine's industrial base.
Signatories will set out the detail of their long-term commitments to Ukraine under the framework announced today in due course.
Prime Minister Rishi Sunak said:
As Ukraine makes strategic progress in their counteroffensive, and the degradation of Russian forces begins to infect Putin's front line, we are stepping up our formal arrangements to protect Ukraine for the long term.
We can never see a repeat of what has happened in Ukraine and this declaration reaffirms our commitment to ensure it is never left vulnerable to the kind of brutality Russia has inflicted on it again.
Supporting their progress on the pathway to NATO membership, coupled with formal, multilateral, and bilateral agreements and the overwhelming support of NATO members will send a strong signal to President Putin and return peace to Europe.
The Prime Minister will also praise Allies in the inaugural NATO-Ukraine Council today for agreeing the Alliance's decision to simplify Ukraine's path to joining NATO and recognise their impressive progress on adapting to alliance standards.
He will say Ukraine's extensive strides towards NATO interoperability and its willingness to reform has already helped them make progress toward the moment when they will be ready to take their rightful place in the Alliance, adding that they have made Ukraine's need for a formal Membership Action Plan (MAP) redundant.
Removing the need for a formal MAP would ensure Ukraine's accession to NATO is quicker when the war is over.
In addition to the work on a long-term bilateral security pact, the UK will deliver more than 70 combat and logistics vehicles to Ukraine, including CVRT vehicles. The British Army vehicles will be gifted to Ukraine to ensure front line forces have the means to carry vital ammunition and equipment, evacuate injured soldiers and recover damaged vehicles, making them crucial to Ukraine's counteroffensive.
Thousands of additional rounds of Challenger 2 ammunition will also be immediately delivered to Ukraine as part of the package, while a new £50m equipment support contract will sustain the battle-winning platforms the UK has already provided to Ukraine including spare parts, technical support, and maintenance training.
As demonstrated by the UK's hosting of the Ukraine Recovery Conference last month, the Prime Minister is focussed on ensuring Ukraine can recover and rebuild in the long term, including supporting members of the military injured on the front lines.
That's why today, the UK will launch a project through NATO to establish a medical rehabilitation centre to support the recovery and return of soldiers to Ukraine's lines of defence after being injured in combat. The centre will be twinned with the UK's world leading facility Stanford Hall, drawing on remote UK expertise and support to accelerate recovery and reduce the long-term impacts of war.
The programme will be funded through NATO's Comprehensive Assistance Package for Ukraine and supported by rehabilitation specialists from across the Alliance.
The centre will treat the most severely injured, helping them to adapt to prothesis, relearn to walk and regain confidence and ambition for the future. For those less severely injured, the centre will accelerate their recovery, helping them to return to the Armed Forces to defend Ukraine.
The announcement comes after several visits of the Ukrainian Surgeon General to the UK, to see first-hand how veterans have been supported to overcome and adapt to major physical challenges inflicted in conflict.