20 Mar 2023
Greece requests the purchase to US of 63 AAVs Assault Amphibious Vehicles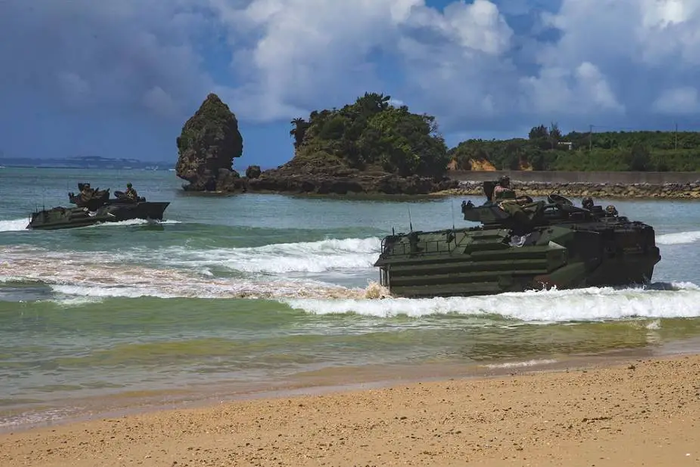 Originally posted on ArmyRecognition
On March 17, 2023, the U.S. Defense Security Cooperation Agency released a statement to announce that the U.S. State Department has made a determination approving a possible Foreign Military Sale to the Government of Greece of 63 Assault Amphibious Vehicles (AAVs) and related equipment for an estimated cost of $268 million.
The Government of Greece has requested to buy sixty-three (63) Assault Amphibious Vehicles, Personnel Variant (AAVP-7A1), nine (9) Assault Amphibious Vehicles, Command Variant (AAVC-7A1), four (4) Assault Amphibious Vehicles, Recovery Variant (AAVR-7A1), and sixty-three (63) 50-Caliber Machine Guns (Heavy Barrel). Also included are MK-19 Grenade Launchers, M36E T1 Thermal Sighting Systems (TSS), supply support (spare parts), support equipment (including special mission kits/tools/Enhanced Applique Kits (EAAK)), training, technical manuals (UNCLASSIFIED), technical data, U.S. Government and contractor engineering, technical support and assistance (including Contractor Engineering Technical Services (CETS)), Integrated Logistic Support (ILS) management services, parts obsolescence remediation, calibration services, transportation, Follow-on Support (FOS), Return, Repair and Reshipment of unserviceable repairable.
This proposed sale will improve Greece's capability to meet current and future threats by providing an effective capability to protect maritime interests and infrastructure in support of its strategic location on NATO's southern flank. Greece contributes to NATO operations, as well as to counterterrorism and counter-piracy maritime efforts. Greece will have no difficulty absorbing these articles and services into its armed forces.
Implementation of this proposed sale will not require the assignment of U.S. Government personnel but will require one (1) contractor representative, Full-Time Equivalent (FTE) position to Greece to deliver Assault Amphibious Vehicles, related equipment, and support.
The Assault Amphibious Vehicle (AAV), also known as the Amphibious Assault Vehicle or Amtrac, is an amphibious landing vehicle designed to transport troops and their equipment from naval ships to shore and support ground operations. The AAV is used primarily by the United States Marine Corps (USMC).
The current model in service is the AAV-7A1, which has been operational since the early 1970s. It is a fully tracked, armored vehicle that can travel on land and water, providing valuable versatility in various combat scenarios.
The AAV-7A1 is designed to operate in both land and water environments. Its tracked design allows it to transition seamlessly between water and land. It uses two water jet propulsors for propulsion in water. These propulsors enable the vehicle to achieve speeds of up to 13-16 km/h in water.
The AAV-7A1 can carry up to 25 fully-equipped Marines and their gear or an equivalent payload of approximately 5,000 to 8,000 lbs (2,268 to 3,629 kg).