31 Mar 2023
German Army orders ten new PzH 2000 self-propelled howitzers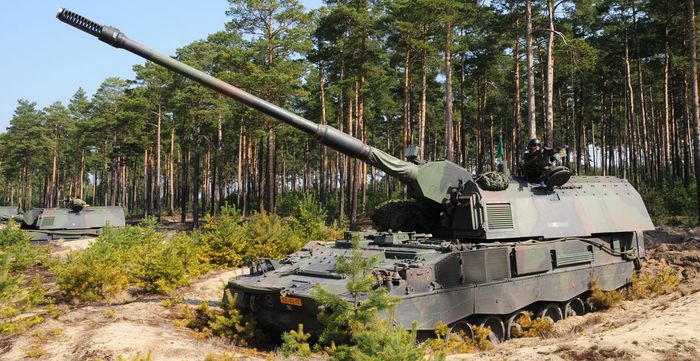 KMW Press Release (Translated)
The Federal Office of Bundeswehr Equipment, Information Technology and In-Service Support (BAAINBw) has commissioned Krauss-Maffei Wegmann (KMW) to produce ten new PzH 2000 self-propelled howitzers. Both sides signed the corresponding contract today in Berlin. Delivery of the systems is scheduled to begin in 2025. In the German artillery force, they will replace self-propelled howitzers that were previously transferred to Ukraine as part of military support services.
The agreement concluded today also includes options for the production of a total of 18 additional PzH 2000 in three lots of six systems each.
Krauss-Maffei Wegmann, a company of the German-French defense technology group KNDS, is the market leader in Europe for heavily armored wheeled and tracked vehicles. At locations in Germany, Brazil, Greece, Great Britain, Mexico, Singapore and the USA, more than 4,000 employees develop, manufacture and support a comprehensive product portfolio. This ranges from air transportable and highly armored wheeled vehicles (MUNGO, AMPV*, DINGO, GFF4 and BOXER*) to reconnaissance, anti-aircraft and artillery systems (FENNEK, GEPARD, Remote Controlled Howitzer 155, Panzerhaubitze 2000, DONAR* and AGM) to main battle tanks (LEOPARD 1 and 2), armored personnel carriers (PUMA*) and bridge-laying systems. This also includes command and information systems as well as remote-controlled carriages with reconnaissance and observation devices. In addition, KMW has far-reaching system expertise in the areas of civil and military simulation. The armed forces of over 50 nations around the world rely on KMW operational systems.