06 Mar 2023
Exercise Desert Warrior: enhancing close combat skills in Kuwait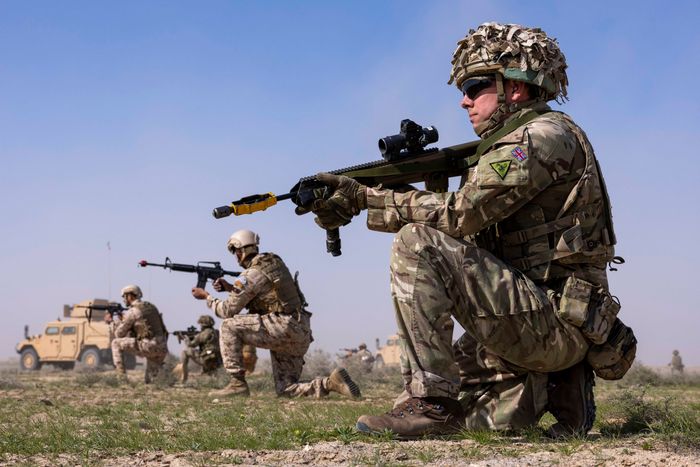 Originally posted on British Army News
Troops from 1st The Queen's Dragoon Guards (The Welsh Cavalry) and 1st Battalion The Royal Anglian Regiment have spent four weeks with their Kuwaiti allies, finessing their mounted and dismounted operating capability which culminated in a joint demonstration prior to Kuwait's Liberation Day.
The bilateral exercise involved the development of the Kuwaiti Land Forces (KLF) Reconnaissance Battalions by integrating troops from the QDG's B Squadron and elements from D Company, 1 Royal Anglian.
A combined assault on enemy targets was played out in front of the British Ambassador to Kuwait, as well as high-ranking officers from the Kuwaiti Army during a Distinguished Visitors Day (DVD).
Lieutenant Colonel Chris Kierstead, the QDG's Commanding Officer, said Exercise Desert Warrior, which is in its seventh iteration with British Army units, presented an ideal opportunity to practice operational effectiveness with allies across varying climates and cultures.
"The aim is to figure out how we use ourselves in this environment in terms of counter reconnaissance, using snipers and anti-tank weapons, as well as looking at the ground in front of us and working out how we can best draw the enemy into our fire traps," he said.
"There are lessons to be learned in how we build teams to operate as one and develop skill sets using the Kuwaiti's equipment.
"This is about making our defence engagement more persistent and is an example of the British Army's global presence and how we consistently work with our allies to further develop those strong bonds that we share."
Major Dhari Alazemi, Company Commander of the Kuwaiti Reconnaissance Battalion was the lead officer for the joint demonstration, called Al Tareer. He said there was mutual respect between both nations, gained from multiple interactions over the last few years.
"This is the third time I've worked with the British Army on Desert Warrior and we now of a lot of experience of working together and understanding each other's capabilities," he said.
"We really value the combat experience of the British Army and every year we put on this exercise we get a greater understanding of each other. Not just that, we also look forward to spending time with the British troops and our relationship is very strong.
"This is about how we would communicate in a real situation and about how we would clear buildings and deal with threats if they were presented by enemy forces."
A progressive package of training took place over four weeks.
The aim was to build up mounted and dismounted close-combat skills and enhance the Kuwaiti Land Forces operational effectiveness in understanding reconnaissance techniques at company level while bringing in combat estimate and planning procedures, information collection and battle-space management.
A follow-on multi-domain joint demonstration also featured US Army assets, including Apache Attack helicopters, Black Hawks, Abrams tanks and HIMARS Multi-Launch Rocket Systems.
The KLF and British Army reconnaissance platoons established a screen before calling in Kuwaiti F-18 fighter aircraft as a show of force before other assets moved in on targets.
Captain Tom Hardiman, of D Company, 1 Royal Anglian, said the British troops had received a very warm welcome.
"It's always a fantastic opportunity to work with our Kuwaiti allies and train together in sharpening marksmanship and soldiering skills," he said.
"We've also discussed tactics and talked through the differences between the British light role anti-tanking systems using Javelin and NLAW (Next-generation Anti-Tank Weapon). They are keen to gain greater understanding of how the British Army fights against armour.
"The warm welcome we've received really shows how much the British Army is very highly regarded in Kuwait. It's been a pleasure to train here with our allies."
Lieutenant Colonel Dan Holloway, the General Headquarters advisor at the British Military Mission in Kuwait said: "We have a long and deep relationship with Kuwait and the key thing is reassurance to our Kuwaiti brothers and sisters that the UK is a reliable defence partner and we gain a lot from deploying here."
The British Ambassador to Kuwait, Belinda Lewis, said: "It's been all about bringing together different areas of training, looking at how to evacuate casualties, how to spot a threat and what action to take.
"It's really useful for the British Army to gain experience of being able to operate on a desert environment and it also shows our global reach and in continuing to do these joint exercises with our partners and allies across the world.
"Being here in the Middle East allows us to maintain our relationships and skills sets to ensure overall effectiveness.
"I know the Kuwaiti military have really benefited from British expertise here and really enjoyed the training exercises and I know they're looking forward to many, many more with us.
"It's important to the Kuwaiti military to train with the British, for lots of different reasons. Partly, they really respect us and the really wide range of operational experience our soldiers have, whether that's from the Balkans, from Afghanistan, Iraq and in lots of different other environments.
"Their operational experience is limited compared to ours, because they are deployed for different purposes, so to learn from people with a depth of combat environments is very important and very useful to them.
"They respect our kit and we have some cutting-edge technology. They trust us and we're there to help and they know we'll always be there in their time of need.
"This is also a particularly poignant time given that we're here training close to Kuwait's Liberation Day, which is hugely important for them and we also acknowledge that significance."
For Jordan Murphy, the experience of being in Kuwait will not be forgotten. The Chepstow soldier, who joined the QDG three years ago, was given news of his promotion from Trooper to Lance Corporal prior to one of the training serials in country.
"My name was called out while on parade and it was a bit of surprise because I didn't expect it," he said. "That obviously makes this deployment a bit more special.
"It's always very useful to train with our international allies because we learn quite a lot and vice versa. You do get a sense the Kuwaiti soldiers really appreciate your input.
"The build up to the joint-demonstration brought out what we've been learning together over the past month after conducting close-target reconnaissance drills, tactics in advancing to the enemy in how to peel right or left and dealing with the enemy in clearing buildings.
"This is what you join the Army for: to keep learning and keep advancing."