23 Feb 2023
DE&S awards Supacat a £90M contract for Jackal High Mobility Transporters.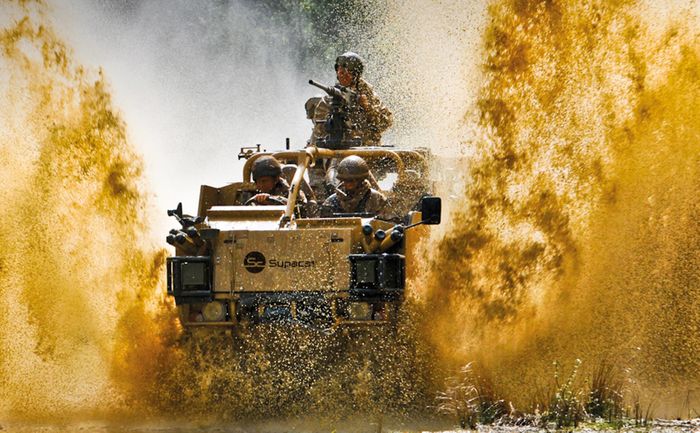 DE&S MoD Press Release
The contract awarded to Supacat will secure 70 High Mobility Truck Variant (HMTV) Mk 2 Extenda platforms.
On completion of validation trials this procurement will result in an uplift of 69 vehicles to the HMTV fleet. These platforms offer increased flexibility to Defence and due to their modular design can be used either as a Jackal (L400) or Coyote (L600) vehicle.
The uplift will be used by the British Army to enhance our fleet numbers, and enable greater support to operations and readiness.
They will be manufactured at Supacat's Devon based factory with support from fellow defence company Babcock at their site in Plymouth. The contract is likely to secure 10 jobs at Supacat and a further 90 jobs at Babcock.
The vehicle was brought into service under urgent operational requirements (UOR) to provide British forces in Afghanistan with an off-road patrol and fire-support vehicle with increased performance. It has been since integrated into the British Army's fleet of versatile, battle-winning capabilities.
Some of the benefits of the platform include:
Optional mine blast and ballistic protection kit.
The option for a variety of mission specific load beds including weapons, communications and ISTAR ( intelligence, surveillance, target acquisition, and reconnaissance ) equipment.
Force protection equipment to suit a wide range of operational roles.
Brigadier Matt Wilkinson, Head of the Vehicle Support which is part of DE&S' Land Equipment Operating Centre, said: "These battle-winning and versatile platforms offer huge benefits our troops on the battlefield. The HMTV is a British built capability that continues to support UK jobs and ensures that the UK retains the crucial engineering and manufacturing skills required in the defence sector, which are key priorities under the British Army's Land Industrial Strategy. I am delighted that we have secured this contract with Supacat and its defence partner Babcock."
The contract is expected to deliver the initial 70 vehicles to the British Army by the end of FY 23/24 with an option to manufacture up to a total of 240 of the light armoured vehicles, should operational requirements demand.
The dive support boats are part of the wider Vahana Workboat programme, which is delivering 35 workboats to a standardised, modular design for the Royal Navy.
The contract has sustained 15 jobs at AEUK plus a further 45 across the supply chain.
Wesley Galliver, Head of Surface Ship Systems Division at AEUK said:
"We are immensely proud to support the Royal Navy and to be part of the One Defence approach. The capability provided by the Dive Boat variant of our SEA Class vessel will significantly enhance the Royal Navy's military diving capability. Furthermore, the flexible modular design of the SEA Class vessels along with common systems will help rationalise training, spares and support across the flotilla."