08 Sep 2022
British Army carries out successful Swarming Drone capability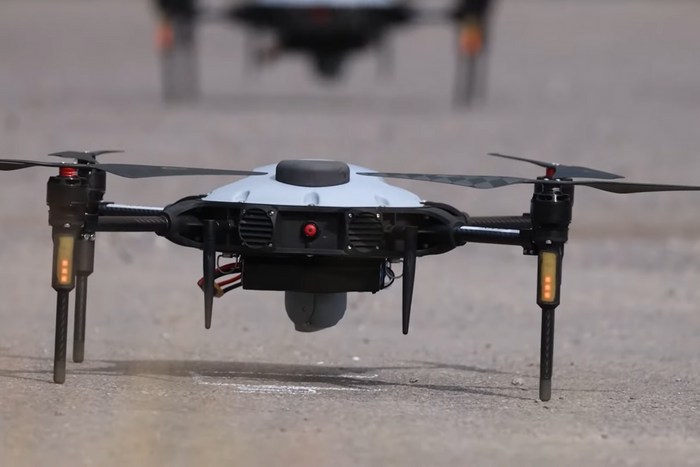 Originally posted on British Army News
A breakthrough in technology and innovation for the British Army took place on Salisbury Plain recently, where a demonstration of multiple Unmanned Aerial Systems (UAS) took place.
Funded by Army Headquarters, the nano-Unmanned Aerial Systems (nUAS) project completed a live multiple drone demonstration also known as swarming drones, pushing technological boundaries.
Lieutenant Colonel Arthur Dawe, Commanding Officer, Infantry Trials and Development Unit (ITDU) explains:
"We are working in collaboration with the Future Capabilities Group (FCG), part of the Defence Equipment & Support (DE&S) construct. The stand-out feature of this event is that you are seeing a military operator control more than one drone at the same time from one single unit. This is adding scale and adding complexity with each drone able to carry out a separate task."
He added:
"This is a real amplifier, adding capacity, force protection, intelligence, surveillance and reconnaissance capabilities. The intent going forward is to add a precision strike capability; this will not only assist in our targeting but also in our strike capability, therefore making us more lethal at range which will protect our very valuable forces and people."
The event was also ground-breaking in terms of the regulatory environment too, as it was the first time the Military Aviation Authority has issued a categorisation of this type for a swarm to be operated by one operator, a huge achievement for the Army and hopefully paving the way for systems like this to come into service.
Two different UAS systems were used; the first was the Atlas, where one operator controls four drones on a tablet via individual manual mission taskings. The second system was the Elbit, where one operator tasks six drones, creating autonomous missions. This means the operator can task up to six drones in a fleet on the same mission or various other missions to complete different tasks.
The focus was on two showcase ideas; the first consisted of multiple drones providing a 24-hour perimeter defensive posture, with surveillance provided by multiple UAS in and around a specific location.
The second scenario worked on artificial intelligence communicating with the system to plan UAS missions, so that they can provide overwatch and inform the user of any points of interest and following where necessary.
Dominic Ferrett, Lead UAS Engineer (DE&S) (FCG):
"This is a significant achievement for the FCG and the Army. We have now proved the concept that one person can fly six drones thus creating a reduction in operator burden."
"In the future we want one operator to control six, twelve, thirty, forty or more drones as part of a more integrated swarm. As we move further with future Army projects we look to human-machine teaming, which will start to bring in ground elements as well as air elements as a combined system."
These demonstrations gave the UAS community the opportunity to share working knowledge and experiences. It will help to continue the work to develop UK Defence's UAS capabilities across the Tri-Service.
Flight Lieutenant David Morrison, Surveillance Target and Acquisition (STA) ITDU:
"Drones are at the forefront of technology right now and this is a real stepping stone in terms of capability. We've seen military operators flying these systems, not the manufacturers, and everything you see has been put together by the military operators and all flown by ourselves. This is the first steps to get soldiers using this kit and equipment."
Lance Corporal Kai Webb, ITDU, STA operates the swarms:
"I never knew that drones were a thing in the Army before I came here. Using this controller and multiple drones provides me with great visibility in the area around me. This type of technology will be a massive help when rolled out to units in the future, assisting with reconnaissance and the security of specific areas and bases too."
"To me personally, I like the fact that you don't have to walk up a massive hill to see what is happening on the other side. You can just send in the drone to get eyes on which offers less risk to the soldier on the ground."