11 Apr 2023
Belgium and the UK sign the MQ-9B International Cooperation Programme MOU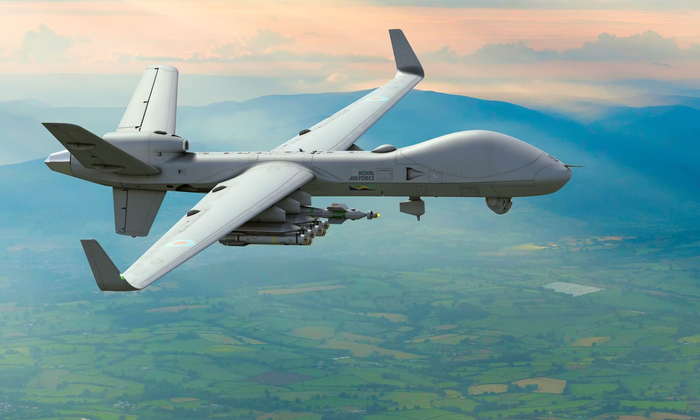 Originally posted on Royal Air Force
Belgium and the United Kingdom have signed a Memorandum of Understanding (MoU) to enable close cooperation and future collaboration on their MQ-9B programmes.
As the lead customer procuring the MQ-9B, to be known as the Protector RG1 in RAF service, the UK has established the MQ-9B Cooperation MOU to enable cooperation between like-minded international governments who have procured a variant of the MQ-9B. The signing sees the UK and Belgium become the initial Participants of the MOU which allows them to enter into detailed arrangements to work together on all programme areas, including certification and airworthiness, training, sustainment, and future capability enhancements.
"This agreement further cements the close relationship between the UK and Belgium and affirms our joint commitment to the strategic unity and defence of Europe and NATO." - Air Commodore Hicks, Assistant Chief of Staff Cap ISR
"This collaboration allows us to develop synergies that optimize the interoperability and support of the SkyGuardian, by creating economies of scale for all participants in various domains such as staff training, certification and development of future capabilities." - Major General Ivan De Tender, Belgian's Head of the Public Procurement Division
The UK and Belgium have also established the MQ-9B International Cooperative Programme (MICP). Formed around the MOU, the MICP provides the processes and functionality to cooperate across certification, Airworthiness, training, sustainment and capability enhancements.
The MICP Community currently comprises eight nations; Belgium and the UK as the leads with six additional nations as observers. Membership of the MICP is expected to grow as a number of like-minded nations are considering the procurement of MQ-9B.
The MQ-9B is a Remotely Piloted Aircraft System that will provide critical surveillance capability. Equipped with a suite of advanced equipment and precision strike weapons, it will be able to deploy against potential adversaries around the globe.