07 Jun 2023
Argentine Army unveils its TAM-2C-A2 latest light tank during its 213th Anniversary Celebration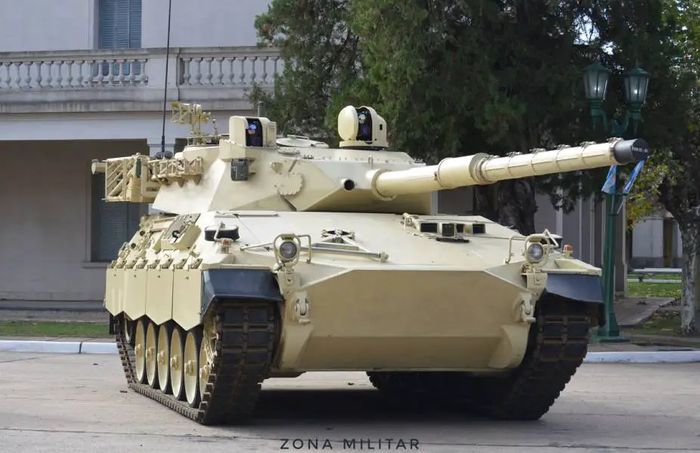 Originally posted on ArmyRecognition
the Argentine Army revealed the latest variants of the TAM-2C Light tank family, the TAM-2C-A2. The occasion was marked by an exhibition of recently acquired combat vehicles and materials, presided over by the Minister of Defense, Jorge Taiana, and the Chief of the General Staff of the Army, Lieutenant General Guillermo Olegario Gonzalo Pereda.
The event took place at the National Military College in El Palomar, Buenos Aires province. Alongside the formal military parade, the army arranged a display to commemorate its rich history. The centerpiece of the event was the showcase of vehicles and materials, including the new TAM-2C-A2 prototype, added to its arsenal over recent years.
According to the Spanish defense website, Zona Militar, the new TAM-2C-A2 variant is currently under a series of Technical-Operational Evaluations (ETO) to validate its performance. Along with the TAM-2C-A2, the TAM 2IP and the previous TAM 2C original prototype were also displayed, highlighting the Army's continuous strides in military technology.
The Tanque Argentino Mediano (TAM) is a series of tanks that were developed by the Argentine Army in the late 1970s and early 1980s. The TAM-2C is an upgraded version of the original TAM tank and features several modern enhancements over its predecessor.
The TAM-2C boasts a more advanced fire control system and upgraded armor compared to the original model, enhancing its combat effectiveness. It also includes features such as night vision capabilities and a laser rangefinder, which significantly improves its ability to engage targets in low-light conditions and at longer ranges.
The TAM-2IP, on the other hand, is a further modernized variant of the TAM-2C. It contains significant upgrades to its digital systems and firepower. Some of its standout features include improved computerized fire control, an enhanced sighting system, and an increased range of effective fire. The TAM-2IP is designed to operate in diverse environments and can perform a variety of combat roles, demonstrating the Argentine Army's commitment to technological advancements and combat readiness.
The new TAM-2C-A2 variant, which was unveiled during the 213th-anniversary celebration, is under rigorous Technical-Operational Evaluations (ETO) to ensure its performance meets the high standards set by its predecessors. The inclusion of these advanced models at the exhibition highlights the significant strides made by the Argentine Army in recent years in upgrading its armored forces.