10 May 2023
Anduril Launches Software to Manage Teams of Autonomous Systems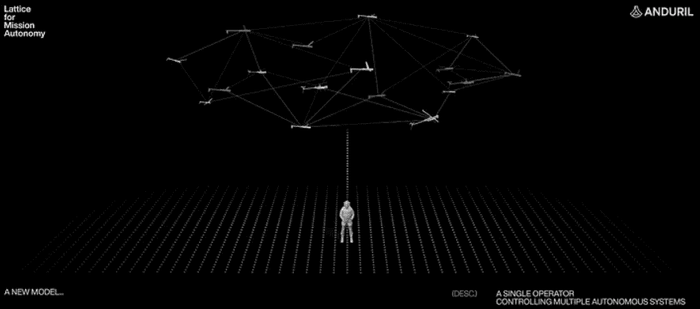 Originally posted on DefenseAdvancement
Anduril's software platform allows humans to employ autonomous systems in a way they never have before, with extended reach, capabilities and situational awareness while enabling warfighters to make better decisions, faster
Anduril has unveiled Lattice for Mission Autonomy, a hardware-agnostic, end-to-end software platform that enables teams of diverse robotic assets to work together under human supervision to dynamically perform complex missions in any domain.
According to Anduril, Lattice for Mission Autonomy allows humans to employ autonomous systems in a way they never have before, extending reach, capabilities and situational awareness while enabling warfighters to make better decisions, faster.
Today, US and allied military capability at scale is believed to be limited by manpower and budget. The current process to perform missions with legacy unmanned systems is said to be, paradoxically, manpower intensive, time consuming and often dangerous.
Anduril believes Lattice for Mission Autonomy provides a fundamental paradigm shift in how military operations are conducted, enabling the military to regain affordable mass with teams of low-cost autonomous systems under the command of a single human operator, increasing speed and accuracy by processing and analyzing data far faster and accurately than humans, and most importantly, saving lives by reducing risk to human operators in dangerous, highly-contested environments.
Anduril is said to have built Lattice for Mission Autonomy with an understanding that a mission is bigger than just its execution, and its autonomy needs are more than just a "self-driving" vehicle that can travel on its own from point A to B. It's a cycle that involves risk and threat modeling, operational analysis, training and exercises, pre-mission planning, and post-mission debriefing to incorporate the next mission cycle. Lattice for Mission Autonomy provides an adaptive digital platform for warfighters to engage with autonomous systems across this entire mission cycle, modeled off human interactions during missions. This makes it possible to experiment with new tactics, develop new concepts of operation, and incorporate rapid changes, all at the speed of modern software.
Lattice for Mission Autonomy understands mission intent. This ability makes the software an effective and reliable teammate that delivers desired outcomes for an operator. It autonomously delivers the core functions that are essential for mission planning and execution: autonomous piloting, identifying threats and objects of interest, managing signature and communications to enhance survivability, orchestrating multi-asset maneuvers, and synchronizing the delivery of effects.
With its open architecture, Lattice makes it possible to compose diverse platforms and payloads, made by different industry partners, for various mission solutions and then change them rapidly as threats and technologies evolve.
With experience automating the operations of hundreds of robotic systems deployed in tactical environments around the world, Anduril believes it is well positioned to deliver the trusted Mission Autonomy platform for the US and allies.